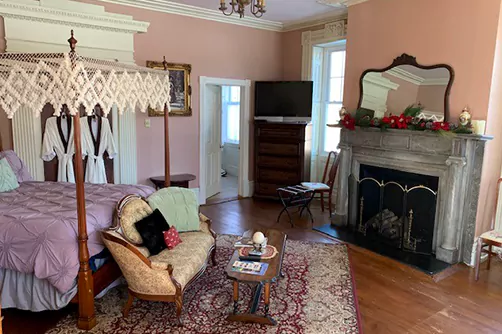 This spacious and airy room on the 1st floor features a romantic queen canopy bed, marble fireplace and spacious bathroom. It is also a good option for longer stays. The Onondaga River room was originally the formal parlor in the Mansion and features original hardwood floors with beautiful large oriental rugs, beautifully carved door frames, cornices and moldings, interior shutters and a large private bath. Unwind with a book and beverage in front of the fire or watch TV or a movie from the reclining winged back chairs. The front porch is steps away, where you can relax and ponder how life might have been like in the 1800s. Rates will vary during holiday weekends.
Room rate: $275
Breakfast is served between 7:30 & 9:30 a.m.
Proud to be a TripAdvisor Certificate of Excellence Winner!