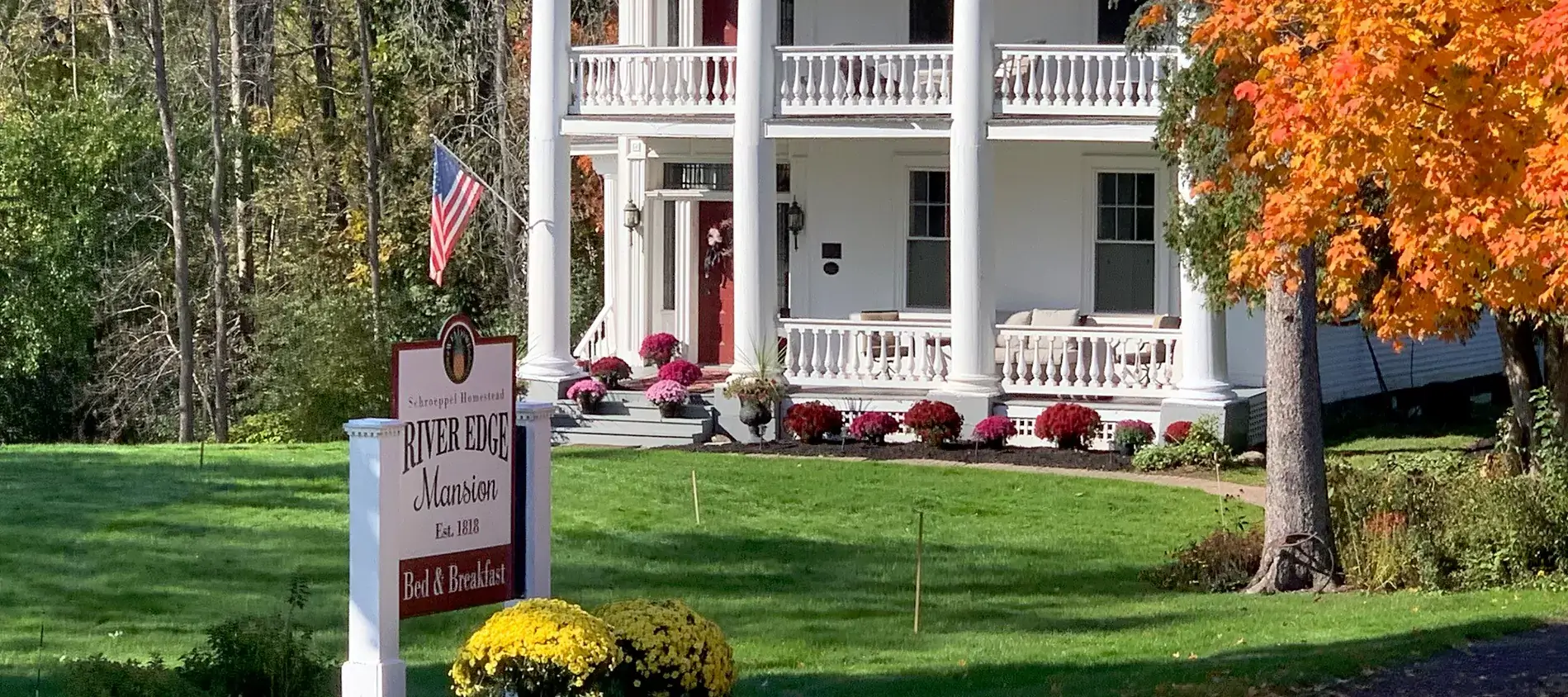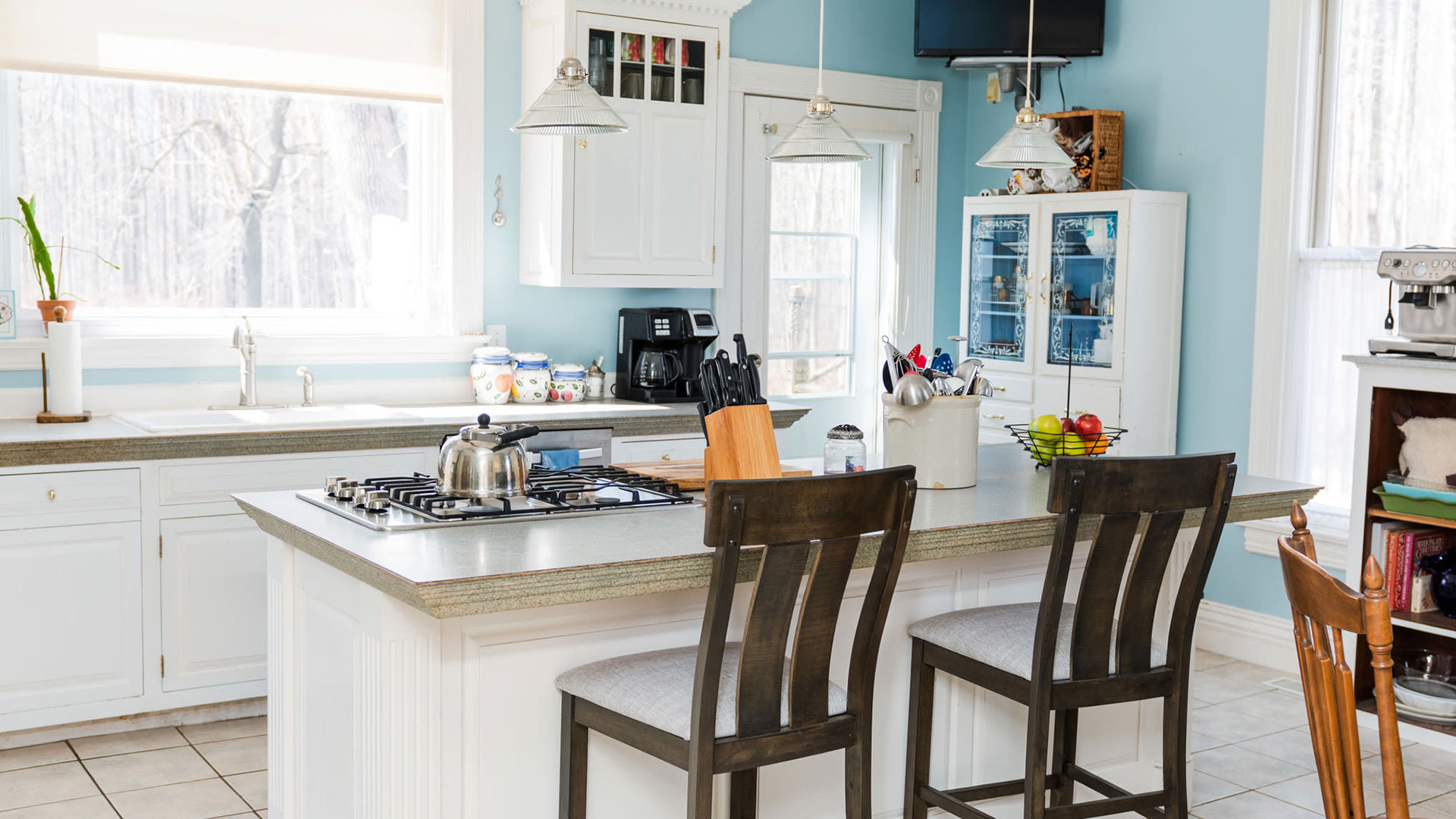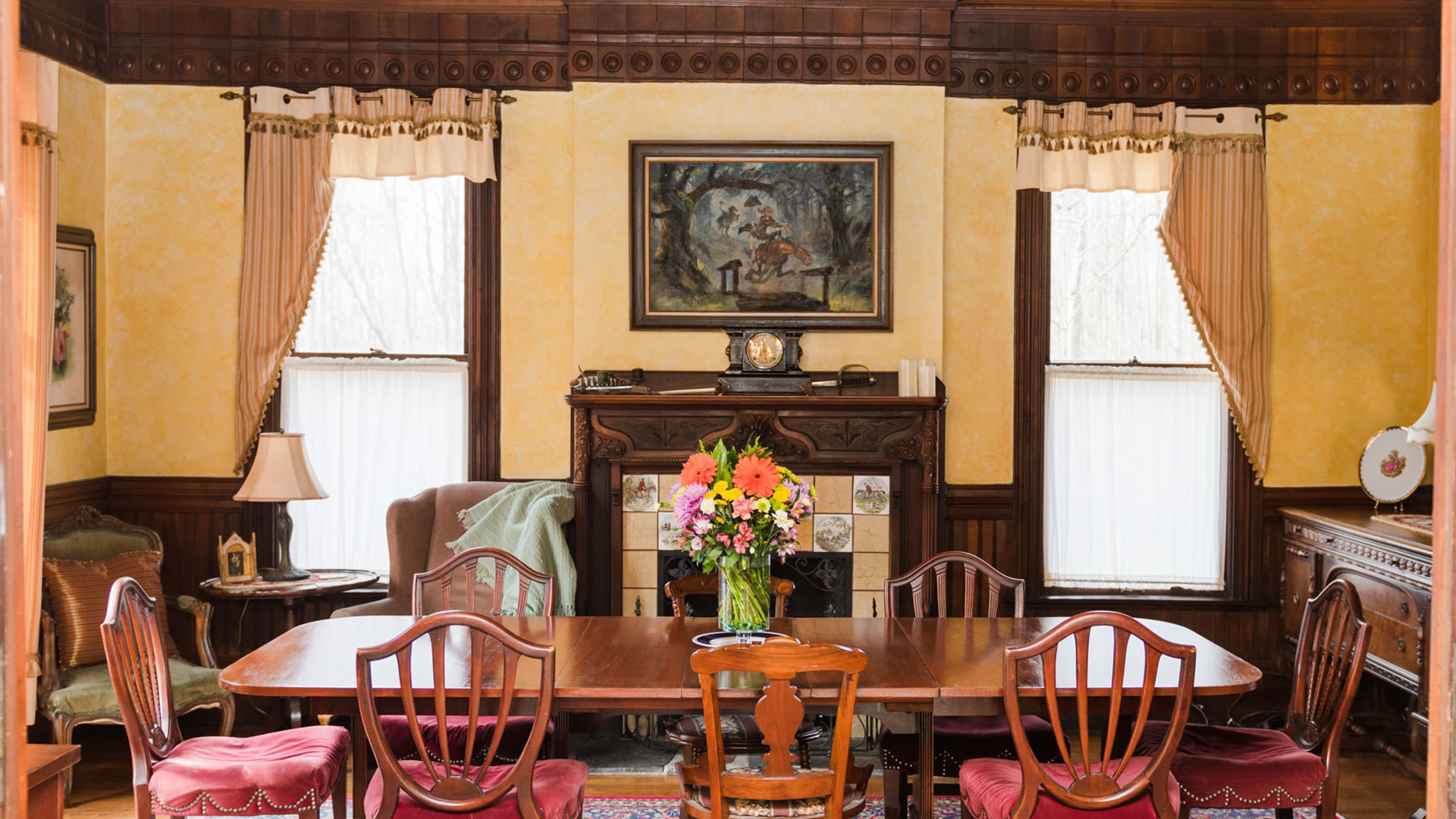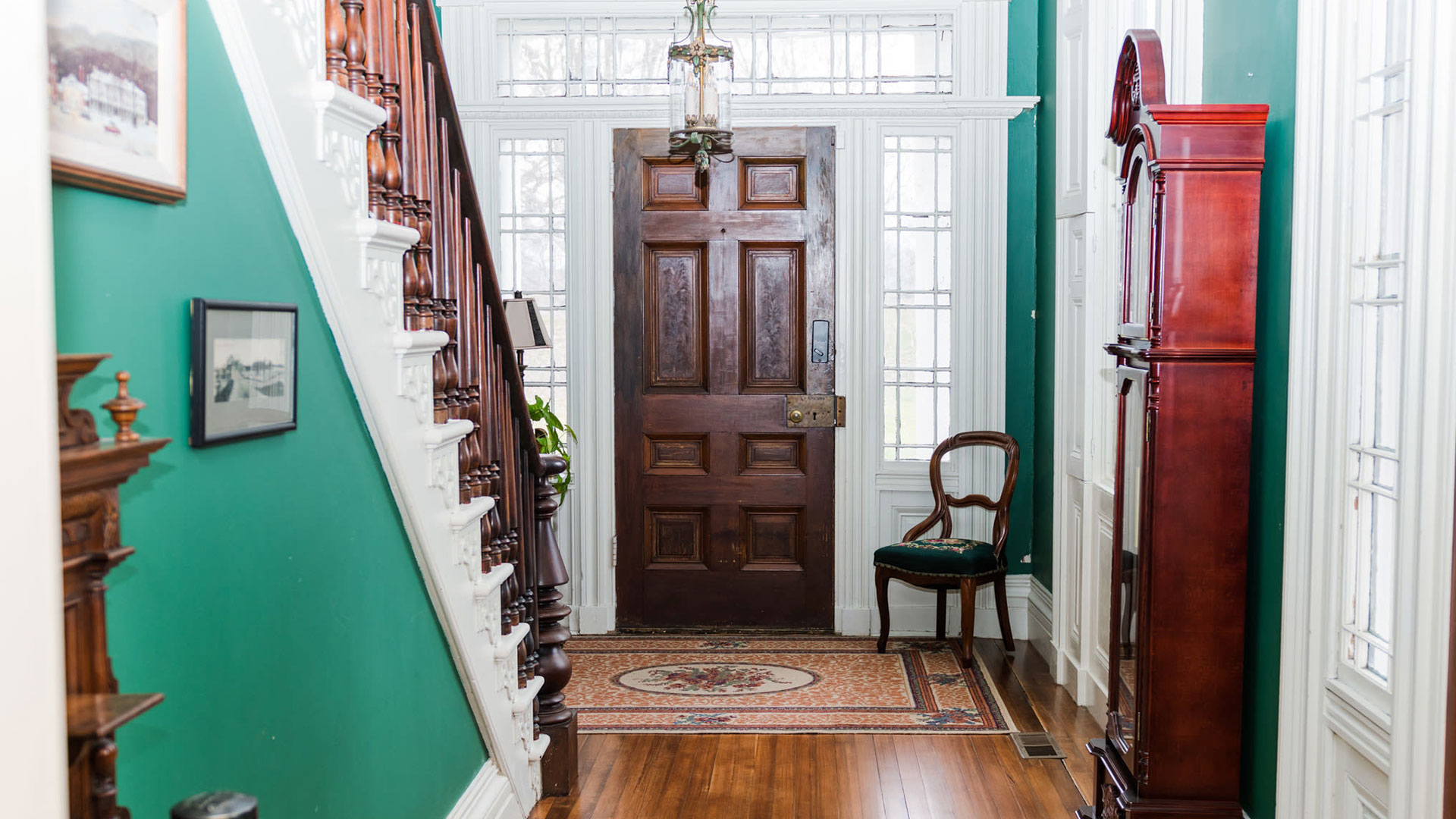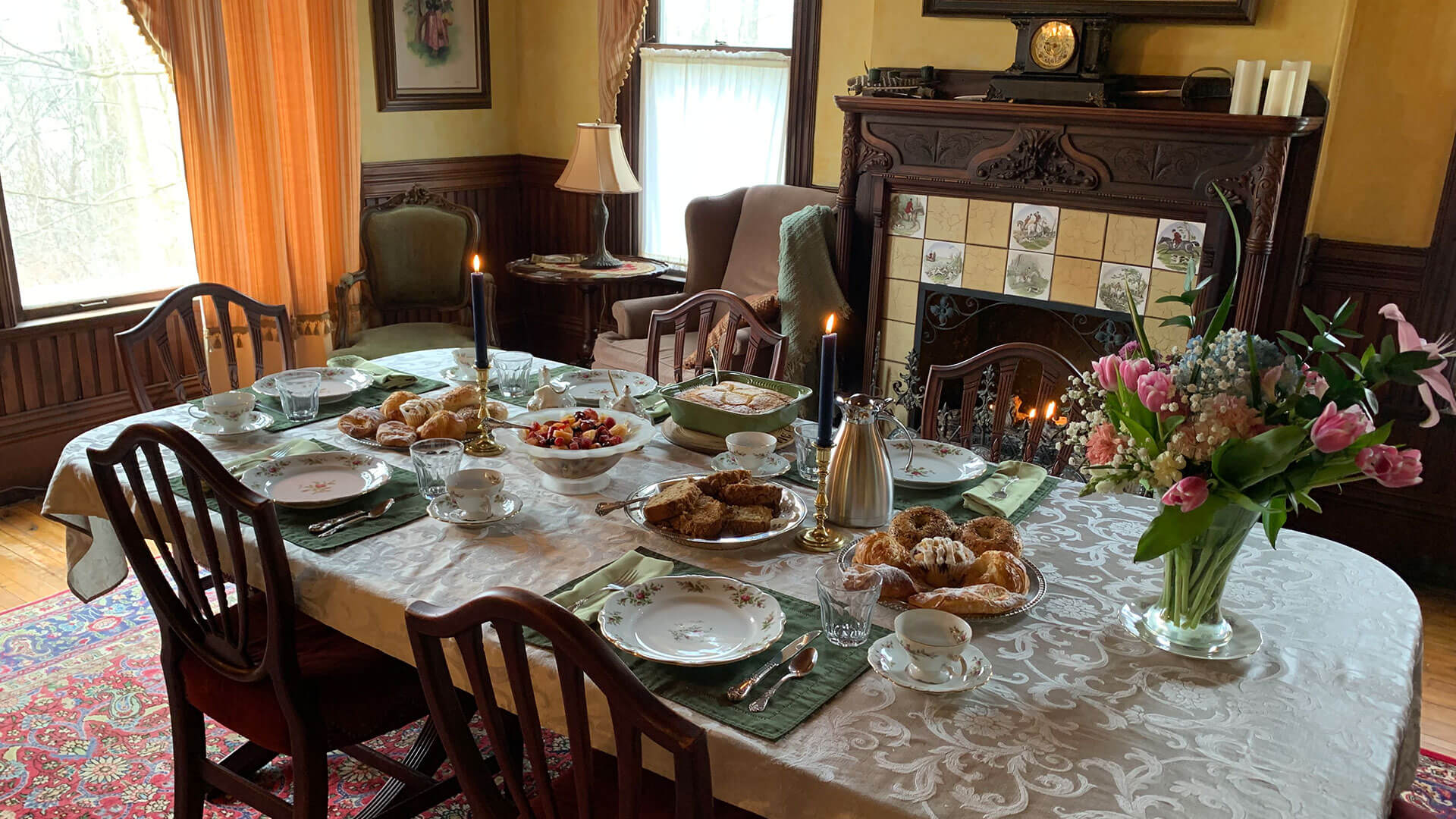 A Bed and Breakfast on the Erie Canal
Discover the River Edge Mansion Bed and Breakfast in the Central New York Syracuse Region
Welcome to River Edge Mansion!
You will fall in love with this restored Greek revival mansion on the banks of the Oneida River just 12 miles from Syracuse in Central New York. The 1818 Schroeppel Homestead, now known as River Edge Mansion, was home to the first school room in the area and is listed in the National Register of Historic Places. The Mansion's fascinating history includes the legend of a French princess and its builder George Casper von Schroeppel.
This lovely historic home has been restored to display its original charm and elegance. The Mansion retains its beautiful hardwood floors, wood spindle staircases, interior window shutters and the original cherry ceiling in the dining room.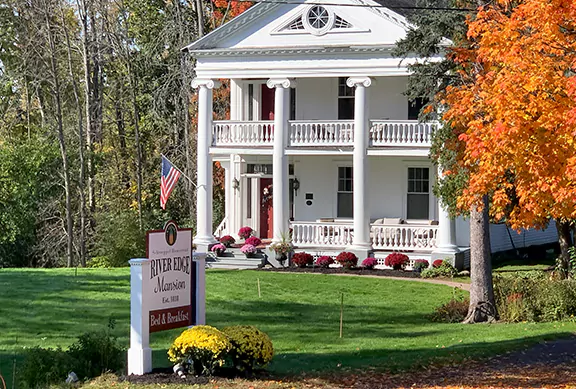 This nearly 200 year old structure has five marble and stone fireplaces.
Pocket doors and a tin ceiling remain as do exquisite hand-carved moldings and cornices. Three beautifully appointed guest rooms furnished with period fine antiques and oriental rugs will warm the hearts of the most discerning guest. This gracious bed & breakfast allows you to escape from the ordinary.
Tastefully decorated rooms create an atmosphere of elegance and refinement yet allow you to completely relax and feel right at home. Indulge in a whirlpool bath, read by a marble fireplace or dream under the canopy of an antique bedstead. Spacious surroundings inside and out give you an opportunity for complete privacy or gracious sharing. A pathway leads you directly to the Oneida River where you will find docking facilities with water and electricity hookup for boating, fishing, and swimming. If you are traveling on the canal, dock your boat and stay a night or two!
Combine all of this with fabulous gourmet breakfasts and you may never want to leave!
Proud to be a TripAdvisor Certificate of Excellence Winner!
Accommodations
Tastefully decorated rooms create an atmosphere of elegance and refinement yet allow you to completely relax and feel right at home. Spacious surroundings inside and out give you an opportunity for complete privacy or gracious sharing.
Fluffy robes, blow dryers, shampoos, shower gels and lotions are provided in each room to make your stay relaxing and comfortable and your packing easier. Wi-Fi is available throughout, along with a nice selection of books and magazines. Cable TV is available in each guest room. The Mansion has central air-conditioning and glowing fireplaces. A Keurig coffee maker on the 2nd floor is accessible all day and night to make you feel right at home.
A complimentary cup of espresso, coffee or tea and a charcuterie board, or a sweet treat is offered upon arrival. If you prefer an alcoholic beverage we encourage you to bring whatever you desire.
Check in time is between 3:00 p.m and 8:00 p.m. and check out is 11:00 a.m. The guest rooms carry the names of nearby rivers which were named after the Native American tribes who inhabited this beautiful area of New York State.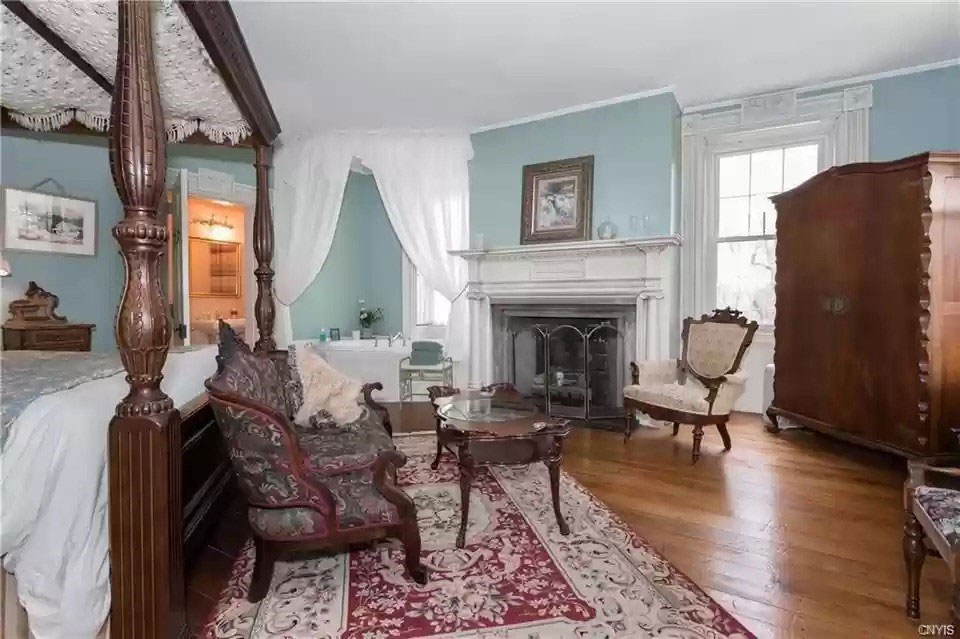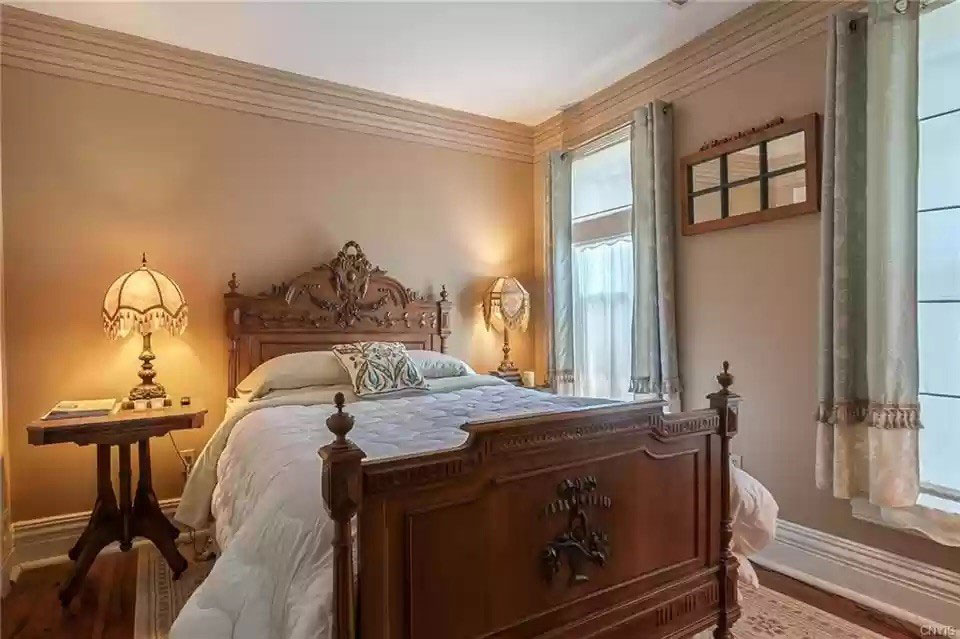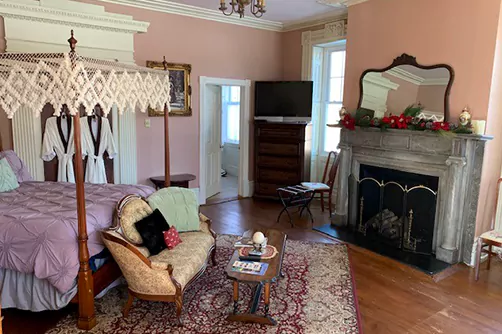 Wonderful and Comfortable
We had a wonderful and comfortable one night stay that was enough for us to make plans to revisit. The hosts were friendly and communicative from the moment we arrived. (And we arrived early— hooray for no traffic!). Breakfast was delicious and the other guests were there for the same reason we were and we all had fun discussing the concert we had just seen. The coffee flowed and the blueberry muffins were hard to resist. (And I really wanted to stash one in my purse). The host dog gave my husband a tour of a little hiking trail and also encouraged him to jump in the river. Husband declined the jump, but the pup enjoyed a morning swim. We are now researching reasons to visit this lovely place again. Thank you to John and Rebecca and Riley for having us in your home.

Susan & Tom McAleer – 6/5/22
Such a beautiful special place
Such a beautiful special place. Full of love . Thank you so much for everything. We hope to stay in touch. Special thanks to RIley for keeping us company!
Ivy Briones & Danielle Gannon – 5/14/22
Beautiful peaceful paradise
You guys have made your home such a beautiful peaceful paradise. Thank you for giving my family and I peace of mind at a rough time in our lives. We had a lovely time & made some amazing memories here thanks to you both!
Kimberly, DIane & Norma Robles – 6/15/22
Wonderful Stay
We had a wonderful stay. It was our wedding night and was the perfect ending to a perfect day! Everything was more than excellent. Thank You!
Vicki & Gary Olcott – 6/21/22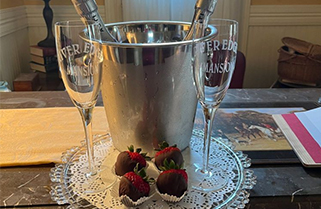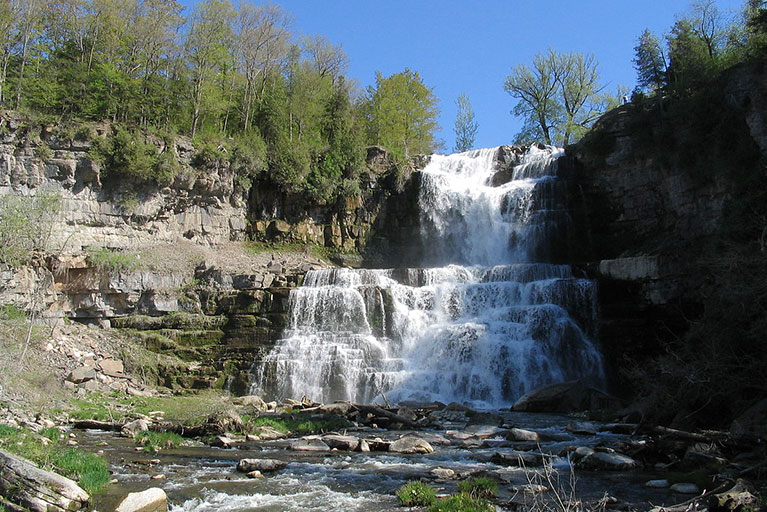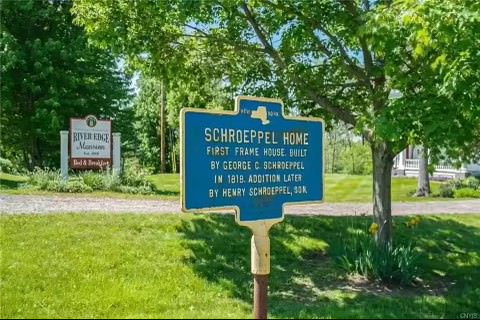 Breakfast
Breakfast at the Mansion is served in our elegant cherry ceiling dining room, next to a cozy hand carved mahogany fireplace. Breakfast includes – fresh baked breads, muffins or pastries, a seasonal fruit dish, and a hot entree. Freshly brewed coffee and a selection of juices and teas complement the meal. You will be graciously served on fine china, silver and crystal in an intimate candlelight setting.
Organic foods and free range chicken eggs are utilized wherever possible. Special diets are no problem as long as you tell us in advance. Gluten-free, vegetarian and other dietary restrictions are happily accommodated with advance notice.