Accommodations
Tastefully decorated rooms create an atmosphere of elegance and refinement yet allow you to completely relax and feel right at home. Spacious surroundings inside and out give you an opportunity for complete privacy or gracious sharing.
Fluffy robes, blow dryers, shampoos, shower gels and lotions are provided in each room to make your stay relaxing and comfortable and your packing easier. Wi-Fi is available throughout, along with a nice selection of books and magazines. Cable TV is available in each guest room. The Mansion has central air-conditioning and glowing fireplaces.
Complimentary Bottled water, and a chocolate sweet treat await you in your room upon arrival. We are always happy to brew you a fresh cup of coffee or your favorite tea.
Check in time is between 3:00 p.m and 8:00 p.m. and check out is 11:00 a.m. Breakfast is served daily between 7:30 & 9:30 a.m.  The guest rooms carry the names of nearby rivers which were named after the Native American tribes who inhabited this beautiful area of New York State.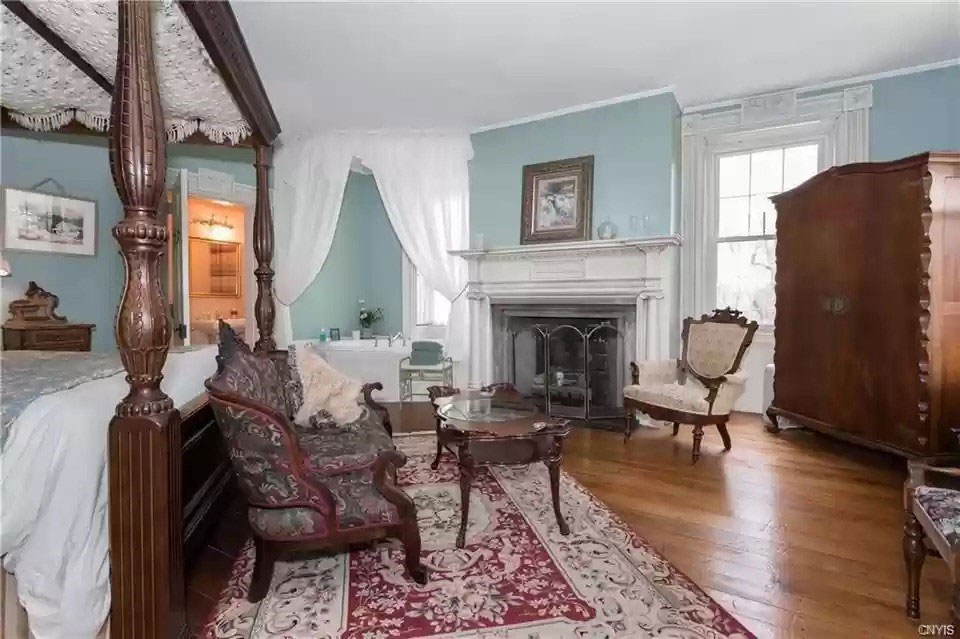 A truly magical experience! This enchanting room will fulfill all your romantic dreams, with its architectural details and original moldings, king canopy bed, two-person whirlpool tub, shower and marble fireplace. Relax on your private balcony, overlooking the Erie Canal.
Unwind in front of a cozy fire while warm waters swirl around you. Rest in comfort on the pillow top mattress and feel totally refreshed. This luxurious room also features period antiques, oriental rugs, handmade interior shutters, cable TV and a private entrance. If you choose the Oneida River room, a coffee tray left just outside your door will brighten your early morning.  Rooms rates will vary during holiday weekends.
Room rate:
Sunday – Wednesday – $235
Thurs – Sat – $295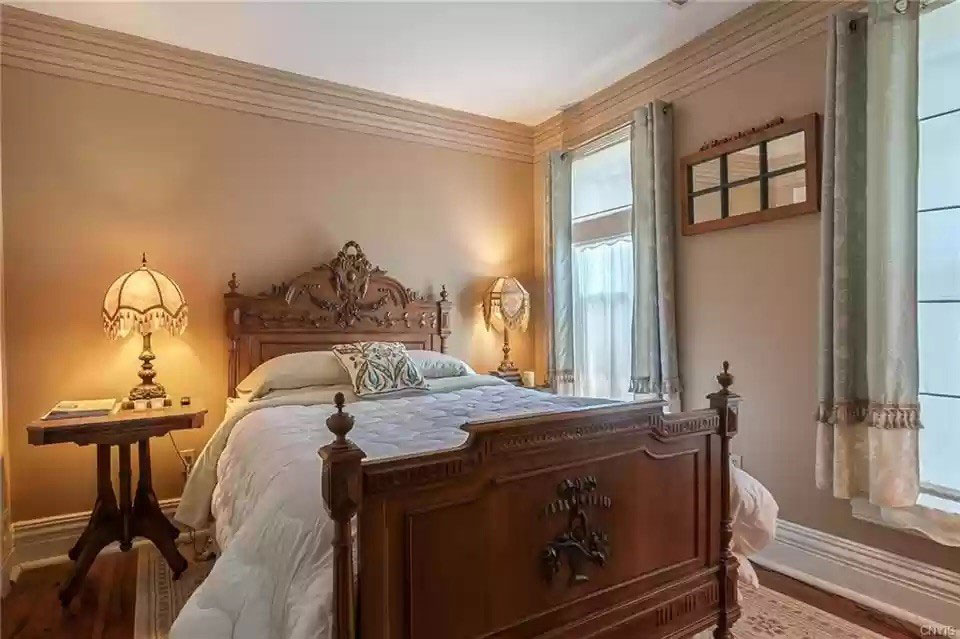 This smaller yet delightful room has a queen antique bed with a dreamy pillow top mattress. Nicely decorated with antiques, this room is perfectly priced for a spontaneous weekend getaway or for the weekday business traveler. A large private bathroom with a whirlpool tub, and shower is attached. Slip into a cozy fluffy robe and enjoy complimentary cable TV. Please call the innkeeper for a lower weeknight rate!  Room rates will vary during holiday weekends.
Room rate:
Sunday -Wednesday – $185
Thurs-Sat- $215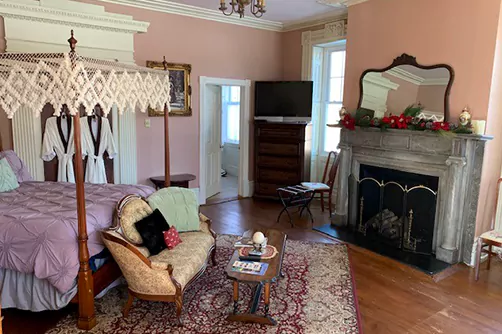 This spacious and airy room on the 1st floor features a romantic queen canopy bed, marble fireplace and spacious bathroom. It is also a good option for longer stays. The Onondaga River room was originally the formal parlor in the Mansion and features original hardwood floors with beautiful large oriental rugs, beautifully carved door frames, cornices and moldings, interior shutters and a large private bath. Unwind with a book and beverage in front of the fire or watch TV or a movie from the reclining winged back chairs. The front porch is steps away, where you can relax and ponder how life might have been like in the 1800s.  Room rates will vary during holiday weekends.
Room rate:
Sunday-Wednesday – $215
Thurs-Sat – $275
A Gift Certificate is a perfect gift for that special someone. Whether it's to celebrate an Anniversary, as a Christmas or Birthday gift or just to get away! Give us a call us at (315) 934-4385 or by e-mail at [email protected].
Beautiful Stay
lovely B&B, Delicious breakfast, will definitely be back
Pat & Ed Vander Wolf 9-23-22
Outstanding Hospitality
We loved our visit for our 36th wedding anniversary. John & Rebecca are wonderful hosts. Thank You for the outstanding hospitality!
David & Cecilia Smalley 9-16-22
Amazing Experience
Such an amazing experience! We got engaged on the docks, we will definitely be back!

Melissa & Jeff Russ 9-30-22
Newlyweds' Special
Spend an unforgettable wedding night at River Edge Mansion and save. What better way to create a spectacular memory of your married life with a candlelit champagne breakfast or enjoy a romantic breakfast in your room or on the 2nd floor porch overlooking the Oneida River.
Dinner
Ask us about dinner or lunch recommendations in the area. If you are interested in Dinner at the Mansion, inquire when you call for a reservation.