The Mansion
This landmark structure was built in 1818 by George Casper von Schroeppel a German merchant who was instrumental in the development of the Erie Canal and the father of our town. This Stately Greek Revival Mansion is currently listed in the National Register of Historic Places. The 4200 sq. ft. von Schroeppel Homestead has been lovingly restored in full detail. Many of the original features still exist. Five marble and stone fireplaces, wood spindle staircases, pocket doors, and a tin ceiling remain as well as exquisite hand-carved moldings and cornices. This gracious bed & breakfast allows you to escape from the ordinary.
George Casper Von Schroeppel, A German Merchant.
Born in Fruchtwang, Germany in 1747 to moderately wealthy parents, George went on to become an officer in the Prussian army. When his service commitment ended, he immigrated to the United States and became a naturalized citizen on April 24, 1784 in a ceremony in Philadelphia. He became a successful merchant and helped form the business firm of Scriba, Schroeppel, and Starman located in New York City. Mr. Schroeppel traveled extensively throughout the Americas for his tea-trading firm. During the year 1796, a business trip to the West Indies would change his life forever.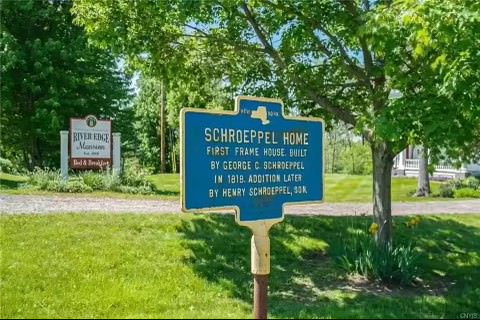 Louise Marie Adelaide Eugenie D'orleans
Born of royalty and great wealth in France on August 25, 1777 to Louis Philippe Joseph, the Duke of Orleans. The Princess was the only sister to three brothers; Louis Philippe; Antoine Philippe, Duke of Montpensier; and Alphonse Leodgar, Count of Beaujolais. In 1791, the Mademoiselle d'Orleans left France in the company of her governess, Madame de Genlis, on a visit to England. When they attempted to return to France the following year, they found that a recent law had declared them migr's.
Banished from France, they fled to Belgium and then to a convent in Switzerland. Sometime in the spring of 1794 the Princes moved to the home of her aunt, Princess de Conti.
During the French revolution and the reign of terror that followed, the guillotine had ended the Duke of Orleans' life, and her mother was banished to Spain. Her three brothers managed to escape to Denmark and lived there in exile until 1796. They booked passage as Danish subjects on a boat bound for Philadelphia. Summoned by her brothers in 1800, the Mademoiselle d'Orleans attempted to sail to America, only to become shipwrecked in route, and find herself in Guadeloupe, West Indies.
The Marriage
It was in Guadeloupe where this famous couple met, fell in love, and were married. In 1801, the von Schroeppels returned to America and lived in New York City. Four children were born to them during their marriage. His business prospered and he became owner of valuable property in New York City as well as a tract of 20,000 acres of land upstate he had purchased from his partner, George Scriba. In 1815, construction of the first frame house, now an historic landmark, was begun. The innovative Greek Revival mansion was completed in 1818 where it still remains on the banks of the Oneida River at Oak Orchard. The records do show however, that the marriage was not a happy one. The difference in age, nationality, and religion would eventually take its toll on the union.
The Legend
Brother Louis Philippe had not stayed in America very long. Shortly after the marriage of his sister, he and his brothers toured the United States, made an unsuccessful attempt to join their mother in Spain, and finally sailed to England and settled at Twickenham, near London. It was not until 1809 that Louis was allowed to enter Spain and be reunited with his mother after 14 years of separation. Unfortunately, by this time, both his brothers had died. They traveled to Palermo, where Louis Philippe met and married Marie Amelia, daughter of Ferdinand.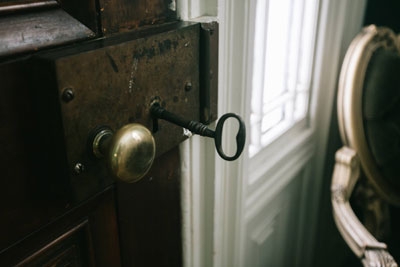 In 1814, the French family's exile ended. They returned to Paris where the family properties and Louis' previous rank were returned.
It was shortly thereafter that her marital troubles and intense family devotion compelled Madame Adelaide to leave George Casper von Schroeppel and her children and return to France. Historical accounts show that Louis Philippe's sister, now known as Madame Adelaide, always remained part of her brother's household. Now, with the end of the Napoleon era, Louis Philippe claimed sympathy with the liberated citizens of France. He ascended to the French throne in 1830. Madame Adelaide became affectionately known as the 'King's Guardian Angel' by his subjects.
Fin
Madame Adelaide died in 1848 at age 70, just two months before her brother the King was overthrown. A nephew, Prince de Joinville, inherited her large estate. Years before her death, in a letter to their father, she had offered a share of the inheritance to her children on condition they embrace her religious faith. Schroeppel never made a reply! George Casper von Schroeppel died in 1825 and was buried at the Trinity Churchyard in New York City. His daughter had his remains removed and placed in land that she donated for the Pennellville cemetery. The historic couple had four children during their marriage; George Casper, Louis Henry William, Marie Eugenie, and Marie Antoinette Schroeppel. George Casper drowned at the age of 12 in Morristown NJ. Marie Eugenie married John Hinman, an Attorney and the eventual Mayor of Utica. Their other daughter married Dr. Pennell, a physician from New York City. In 1833 the Pennells commissioned the building of a sawmill on Fish Creek, in the north west quadrant of the Schroeppel estate, that contributed to the rapid growth of that area. Their son Henry continued to operate the homestead as a farm and added a wing to the landmark structure. An upstairs room in the mansion was used as the area's first schoolroom. Henry, however, would eventually be killed in a mysterious fall from the second floor balcony, the cause of which was never determined.